ION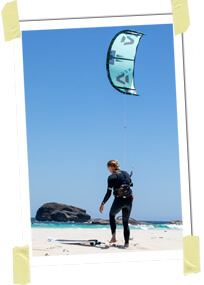 In Spring 2005 Boards&More – the leading boarders company – proudly announced the birth of a new brand: ION – first products to be wetsuits, followed by more technical accessories in the future.
Since 2005 ION has established itself as market leader of innovative products of highest quality. The name of the website www.ion-essentials.com indicates exactly that: ION products – wetsuits, neoprene accessories, harnesses, softgoods, packs, and bags – aren't just fashion accessories to other hard good products, they are rather true essentials to both the practice of the water sport and the end user.
A unique combination of progressive look & feel and highly technical products create the authentic core image of this young brand. Highly elastical and warm neoprene, smart details for practical solutions brought to the end users' requirements, perfect fit allied to style are the goals to achieve for each product line. Each product goes through an intensive prototyping and refining process aimed at finding the best solution to protect the user from the elements in the most comfortable, reliable and stylish way.
I'm highly thrilled in particular about the women's products designed with special attention to meet the different needs and taste compared to men.
The technology of ION's wetsuits is state-of-the-art and ensures comfort, perfect body fit, heat retention, abrasion resistance as well as look and style perfectly aimed at the specific target group and its purpose. Two of my absolute favourite products are the 'TRINITY AMP Frontzip', for sure the sickest wettie on the planet and the "NOVA Curv 10 Select", THE best harness I've ever had around my kiter hips. I couldn't imagine a trip without them, nor could I go anywhere without my ION lycras, boardshorts, beany, bags and and and… the list of my personal essentials is long!
I'm so stoked that Boards & More launched this awesome brand ION. Finally I can rock any spot on the planet in style and without freezing off my 'cold water allergic'- kiter bum!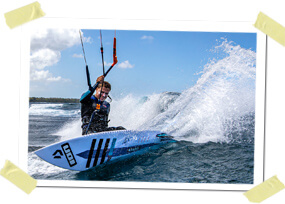 Also my team mates in ION's international team reflect the high-profile of this dynamic, young company, boasting an impressive portfolio of world class wind- and kitesurfers: Gollito Estredo (multiple PWA Freestyle World Champ), Airton Cozzolino, Mathcu Lopes and many more 'top guys & girls'!