Quobba
NEXT LEVEL FIN DESIGN
The Faster You Go, The Faster You Go
A faster, drivier, more ingenious surfboard fin: Enter Quobba out of Margaret River, Western Australia, a unique co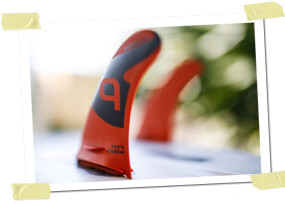 mbination of scientific principles and extensive experimentation/testing in West Oz's plethora of waves.
Quobba Fins — coming from the Aboriginal word for "first" or "best" — are a unique and patented fin system design, developed to push you faster through the water with more drive out of the turns and a lot more hold. The Caudal Keel at the bottom of the fin creates those improvements — they're almost like a mini hydro-foil.

It even has scientifically been proven these fins go faster!
The University of WA has been helping Quobba understand how water moved around their fins and why they are faster. Quobba also spent a fair bit of money with a very large computer in Western Australia with the Computational Fluid Dynamics program to show exactly what's happening, comparing their fins against regular fins in the market place.

What are Quobba Fins made from?
Quobba's current Glass Series fins are made from a new invention made by the Swiss called Metal Replacement Technology. It comprises 50% glass fiber, 40% hi-tensile resins and polymers. It's somewhere between a metal and a polymer. It behaves like a metal so they have a tremendous strength with a great flex pattern, but basically it is still a polymer.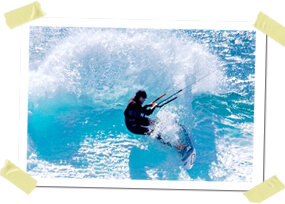 Quobba are also about to release a really cool carbon/glass and carbon range!
My personal feedback:

I froooooooth on the Quobbas, they're without a doubt the best fins I've ever had in my kiteboards! The best of the best of my Duotone International teammates think alike 😉 James Carew – current No.1 -, Matchu Lopes…, they all wouldn't want to trade their Quobbas for any other fin brand!
My two personal favourite fin set-ups are a mix of two large (sides) and medium Quobba as the rear fin or the brand-new Glass/Carbon fins (they already come with a smaller rear fin):
These fin set-ups are GAMECHANGERS!!! Slicing through the water like a knife with an UNREAL GRIP in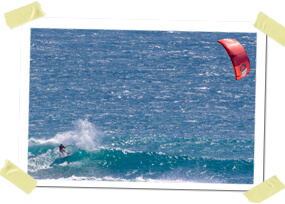 sections of the wave where I wouldn't normally want to go with other fins, with a fantastic drive through the turns generating lots of speed to really 'go for it' — hitting the lip hard or sticking turns in the most critical part of the wave. What blows me away the most time and again: the performance through the top turn, allowing me to come out of my reos and lay back snaps beyond 90 degrees with amazing control and hold.
If you haven't tried them, do yourself a favour and order some: www.quobbafins.com