A short interview with me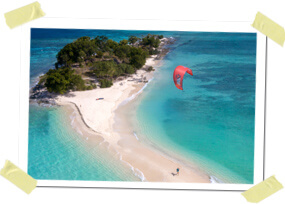 What does kiteboarding mean to you?
Kitesurfing is more than just a sport or passion; it's my life and today I'm living my childhood dream. I feel privileged – a life full of excitement, new places, people and friendships almost everyday, joy, stunning places, the ocean as my office, what more could one wish for?
Luck certainly has been one of the ingredients to my recipe of success, however, at least equally important were strong willpower, detemination, perserverance, and 100% commitment. Dare to ride waves of passion with the same drive and life your dreams !! '
Having been a professional kiteboarder for more than 19 years, is it still fun? What's your focus today?
Yes, sure, kiteboarding still is the greatest fun on earth and although surviving as a pro is really hard work and comprises way more than simply to kite well, I WOULD NOT TRADE my job with anyone!
After many successful years in the PKRA Freestyle World Cup with numerous beautiful achievements and victories, I have been pursuing a career as "Globetrotting Freerider", Adventurer, Journalist, Photographer & Travel-Writer. Dedicating my life to the search for the World's best "new" kitesurfing spots, I organise media-projects all across the globe — the more remote the better!! I try to fin new spots to kite — pioneering work, you know 🙂
My main focus in the water has shifted from freestyle pretty much entirely to: Waves! From an athletic perspective, waves are my challenge today that make me push myself always further and to go to my limits, face my fears and overcome them. From a spiritual they're my healer and my greatest teacher.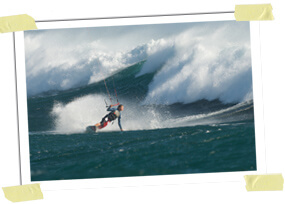 Waves, what do you mean?
Waveriding with a kite – 'wavekiting' – is the latest trend in the multifaceted sport of kiteboarding. No matter the size of waves, wavekiting just confirms the beauty of the sport by opening up totally new kite-playgrounds with top rated fun-factor! An in-between tow-in surfing (just that you don't need a jetski), normal surfing (but skipping the paddling part) and obviously 'normal' kiteboarding, however, with a board the shape of a surfboard (with or without footstraps) the goal is to surf the wave in the most radical way at its most critical part.
Me personally I love BIG WAVES and get a total kick out of surviving sick sessions in water-mountains the size of houses…frothing for more challenges to come!
That's my personal favourite – big waves – however experience and knowledge of waves is a must before heading into 'monsters'! In any case, wavekiting is sick fun no matter the size of the waves and I would like to encourage everyone to simply give it a go … all you need: a little wind and of course some decent kitesurf-equipment that has been designed for wave riding. Duotone kiteboarding with its extensive range of special wave-kites and boards is certainly just once more at the forefront of development, and you would be surprised how much fun one can suddenly have in some blown out, crappy shorebreak…on long downwinders or some sweet reef break!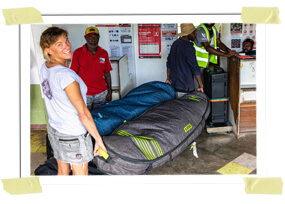 Today you are one of the World's few successful female freeriders and most probably the one enjoying most media-coverage, tell us a little more:
To me, kitesurfing is all about freeriding, that's where I can express myself best. Competition most of the times portrays a rather distorted picture of reality due to judging, too many totally uncontrollable factors (wind, etc.), financial burdens etc.
For me 'freeride' is the real soul and the purest form of kitesurfing. It goes without saying that competition pushes the sport and thus is of vital importance to the development and progress of the sport. I participate today only in selective competitions around the globe, my true focus, though, lies on pushing the limits and setting new standards in film-productions and photos. Working together with leading media channels, I'm proud to be one of the kiting-world's most covered kite-chicks.
In my continuous quest I'm travelling our stunning planet earth pretty much all year and am stoked to be able to share this amazing adventure with the world. Check out my already published articles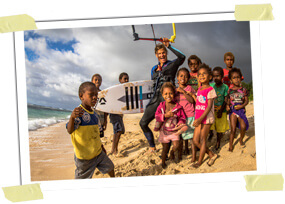 "Passionate about riding new spots, exploring yet to me unknown countries and people, diving into different cultures, sharing the pure joy of kitesurfing with kindred mates all around the world no matter their background, age or mother tongue and spreading this energy all around" – my definition of the true freeride spirit" G.Steindl 2008