My profile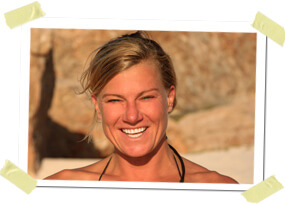 Name Gabi Steindl
Nationality Austrian
Profession Professional Kitesurfer
Sponsors  DUOTONE KITES, ION, QUOBBA FINS
Home @ …well, after over a decade of having been a "Kite-Nomad", living out of my Duotone board bag following the wind and making the destinations of my missions (comps, photo-shoots, explorer expeditions for my magazine articles etc.) all around the globe my temporary bases, I found my true spiritual home and settled down (perhaps not in the most conservative meaning of the word as I still travel a fair bit) in Margaret River, Western Australia.
I'm married to an Australian Big Wave Windsurfer and we have created a beautiful home together, only a few kilometres from the Ocean, in the bush, lots of kangaroos in the garden as well as our 4 chickens 🙂
Education & professional development Please check out my Curriculum Vitae for all details !
Likes Getting up at sunrise, surfing before breakfast, meditating, loving to inhale the energy of Mother Nature !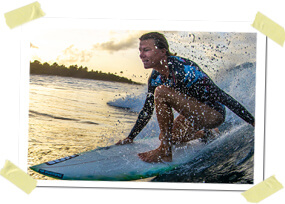 Dislikes Envy
Height 178 cm
Eyes Blue
Hair Blond … in fact almost white.
Interests other than kitesurfing
Surfing, SUP, yoga, swimming, mountainbiking, snowboarding, scuba diving (PADI Advanced, CMAS* Bronze), horsebackriding (Austrian National Junior Champion Showjumping 1992&1993), YMCA certified Aerobic instructor, martial arts, hiking, mountainbiking …
Other than sports: writing, photography and of course travel!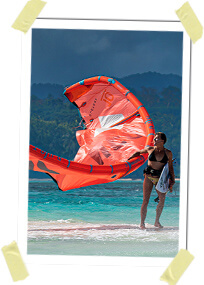 Favourite spot …wherever the wind blows and the swell hits!
Favourite equipment Duotone Neo SLS, I love my 10m2 as I truly dig riding in light winds, that's when the waves are still soooo clean, but I also absolutely froth on my 6m2 🙂
Waveboards: 2021 Pro Wam SLS
Motto in life "Life's not a rehearsal…, Happy those people, who dream dreams and are willing to pay the price, to see them come true".
Also check out my CURRICULUM VITAE (the more serious version of the above) as well as a SHORT INTERVIEW about my life as a pro and focus on wave-riding today.  Have fun !